Men in Nursing
By Rajat Mittal | ​Reading Time: 4min 42secs ∣ Words: 941
---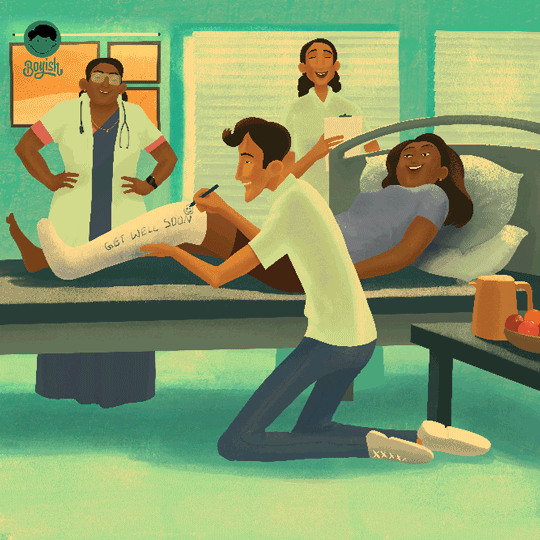 Nursing is one of the most gendered professions in healthcare. Even as I write this story about a man in nursing, I am uneasy with the knowledge that men can actually be nurses. My conditioning that nursing is a feminine profession is inextricably intertwined with my childhood and upbringing. Growing up, I never ever saw a male nurse in hospitals.
The topic of lack of men in nursing is actually well-researched globally and the reasons seem to be the same — low pay, low respect by peers and family, constant bullying and teasing about masculinity, and the worst of all — a constant threat of their touch being construed wrongly as sexual.
While this is a global problem, it seems to be aggravated in India given the size of India's healthcare sector (largest in the world), the culture and the policies. In 2019, All India Institute of Medical Sciences (AIIMS) held a national policy making meeting. It was decided in this meeting that only 20% male nurses will be allowed in the healthcare sector. Absurd in itself, this felt even more ludicrous to me when I dived into the topic of nursing shortage in the world. Almost every big country is facing a shortage but international migration of nurses as one of the causes seems unique to India.
Given this background, I was excited to chat with Stanly Jones, a male nurse from Chennai for this month's issue. Interviewing Stanly was a wonderful opportunity to learn about nursing in India, his personal trajectory into the profession and how its changing for the better in India.
A reluctant choice
As a young boy, Stanly aspired to become a doctor but his grades were not good enough for him to pursue his dream. Stanly's mother, a headmistress at a school, really wanted him to take up a job that offered security, so she pushed him to pursue nursing instead. And so, Stanly found himself studying nursing—a profession he had not even considered before.
Early challenges
Getting admitted to a nursing college was not easy. Only three institutes provided nursing training to men in the region in the 1980s. Once admitted, Stanly was one of the only four boys in a college that was full of female students. This was the first time he was living away from his family. Due to constant bullying by seniors, he often considered quitting and returning home. With support from some of his colleagues and a couple of mentors, Stanly completed his education and even topped the South Indian Medical Board examination.
A male nurse?
His first posting after completing his studies was at a hospital in Kolkata. In the 1980s, when Stanly joined, a male nurse was unheard of. At first, he faced many questions from the curious staff and patients. Patients were so used to seeing women as nurses that they simply did not trust Stanly when he provided them with care. He found himself working twice as hard to prove his ability and to earn credibility. These are the struggles that are often omitted from popular discourse around gender and sex discrimination.
At the hospital, he was often considered an attendant. Patients and other staff members would ask him to call the nurse. During one such incident, a member of the hospital did not allow Stanly to perform a medical procedure on a patient as she simply did not believe him to be a nurse. The worldview of a nurse to be a female is so deeply gendered that we even refer to them as a "male nurse" as opposed to just a nurse.
Research conducted with male nurses at hospitals in three different cities in Kerala (the largest source of nurses in India) has showcased that there are many social and work-related impediments to a male nurse's career in India. Besides discrimination at the workplace, male nurses have to deal with negative perceptions of their families towards the profession, negative perceptions of others towards their masculinity and the difficulties in finding a bride and starting a family. These studies have found that men in India select nursing often for increasing their odds of migrating to other countries like the UK or Australia.
Stanly has stayed put in India and currently, he is the Chief Nursing Superintendent at the Southern Railways Hospital in Chennai. For Stanly, seeing the patients in his care recover and get stronger is immensely satisfying. He finds contentment in serving his patients and is grateful that he pursued nursing. He strongly rejects the idea that only women can be compassionate and caring. The number of male nurses at his hospital has gone up in his time, and he is elated to see young male nurses shattering the stereotype with confidence.
All this reminds me of the movie Meet the Parents, in which actor Ben Stiller is a male nurse and a constant subject of jokes throughout the film. Such tropes make an impression not just on young minds but adults too. Men have been traditionally assumed to lack the competency to care for others, a worldview that folks like Stanly are challenging daily.
Further Reading