Can Indian fathers move from authoritarian to authoritative parenting?
By Liesl Goecker | Reading Time: 4min 45secs | Words: 989
---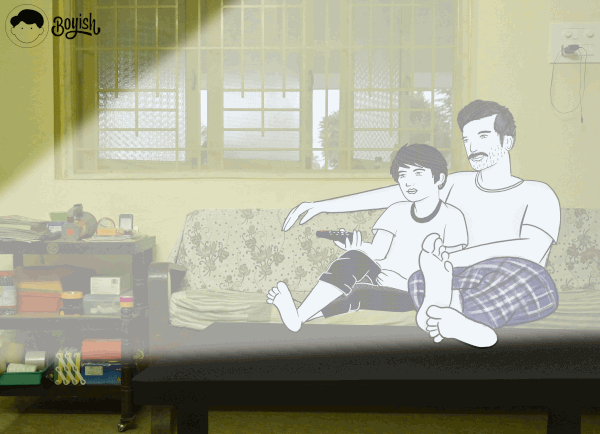 Dilwale Dulhania Le Jayenge, affectionately known as DDLJ, is the longest-running film in Indian cinematic history. Released in 1995, the film became a cultural touchstone and is still relevant today even as it defined romance for an earlier generation of adolescents. But it also evoked a truth familiar to families of any era, in the character of Baldev Singh, the heroine's strict patriarch: that for many fathers, an authoritarian, 'my-way-or-the-highway' parenting style is the only -- the masculine -- way to raise children.
It isn't.
Authoritarian parents can, of course, be either male or female, but like Baldev Singh, they are highly demanding of their children while often unresponsive to their children's needs and input. Authoritarian parents have high expectations of their children to conform to rules and norms. Such parents are strict and focus on establishing and maintaining control and eliciting obedience in all things. They are more likely to highlight and punish mistakes and failures, but ignore effort or achievement. In other words, they are the authority, the boss, and what they say goes.
So many of us grew up with a Baldev Singh, either in our family or in our social circle. He was the disciplinarian of whom everyone was a little (or very) scared, the parent with zero interest in our thoughts, opinions, experiences, emotions, struggles, needs, or passions, but with every interest in our school marks (too low), our spending habits (too high), and our ability to uphold the family's dignity in the eyes of others (embarrassing). Many of us have a love-hate relationship with this parent, and know by now that the authoritarian style of parenting he presented can be terrifying and extremely tiring, not just for others but for him as well.
We are beginning to realize that when a parent is authoritarian, everyone in the family suffers because no one's needs are met -- including the parent's. Little surprise that studies confirm this parenting style is associated with more frequent and intense conflict within a family, compared to other parenting styles. Children require more and more agency of thought and action as they grow; this need, while developmentally appropriate, challenges the authoritarian parent's need for authority. And, if that parent is the father, it challenges his masculinity, too. For many men, this can seem as if their whole identity is under threat, a feeling that may prompt them to double down on authoritarianism as a means to protect their identity as a man.
Authority and masculinity are closely entwined. Masculinity is the collection of traits, behaviors, and roles that societies have decided should define the ideal male experience. The concept was developed to explain "how and why men maintain dominant social roles over women and other groups considered to be feminine." And domination is just another term for authority.
Of course, in the world at large, men experience the inherent power of masculinity in very different ways -- caste, class, sexual orientation, and other identities can all affect to what degree men enjoy the authority their gender confers. But particularly within the family realm -- which, until quite recently in human history, was strictly heterosexual -- fathers have been the ultimate authority figures.
While there's no evidence to suggest men are more prone than women to parenting in an authoritarian way, our cultural depictions of fatherhood are telling. Think of Baldev Singh's authoritarianism about whom his daughter weds in DDLJ; the cold, distant father in Ek Main Aur Ekk Tu who demands perfection of Imran Khan's character without caring for the toll on his son; and Amitabh Bachchan's dictatorial patriarch in Kabhi Khushi Kabhie Gham. These movies and many more both reflect and contribute to the social expectations and definitions of masculinity that propel men toward authoritarian parenting.
These same messages have been institutionalized in real life, making the equation of fatherhood with authoritarianism even more insidious and pervasive. Only in 2015 did a Delhi High Court ruling allow women to be the legal head of a household, the person who decides "matters such as inheritance, family money allotment, and property management." Until this ruling, legally on paper, a man was the authority of any given family.
Often, we are what we watch, on-screen and at home. This suggests a vicious cycle of authoritarian fatherhood, but among young parents, a growing awareness of the pitfalls, vulnerabilities, and unkindnesses of equating masculinity with authority and desire to do things differently are disrupting the cycle. The 2015 court ruling is evidence of this societal shift. Also telling is the fact that media depictions of fatherhood are changing – from Piku to Bareilly Ki Barfi to Thappad and more, movies in the 2010s and beyond were filled with supportive and loving (though not always approving) fathers.
These depictions suggest a shift away from authoritarian fatherhood toward authoritative fatherhood.
Authoritative parents set high standards and boundaries for their children, but imbue them with compassion, responsiveness to children's needs, and encouragement for children's independence. Authoritative parents are warm and supportive, but set and enforce some limits on behavior. They are the boss in certain areas, but they listen to their children, adapt, and also look for ways to facilitate their children's independence. Their disciplinary tactics are aimed at helping children learn and display good and appropriate behavior, rather than punishing bad behavior.
Children with authoritative parents are more likely than children raised under other parenting styles to grow into independent, capable, socially accepted, and successful adults. Authoritative parents also report less frequent and less intense conflict with their children, making parenting a more enjoyable and productive experience during their children's youth and setting the stage for a more meaningful and mutually supportive relationship during their children's adulthood.
In other words, authoritative parenting is a lot like another permutation of authority closely associated with masculinity: leadership. With such significant payoffs for the whole family, the 'manly' thing for fathers to do seems obvious: lead by a new example, rather than follow the old one.
---